Newrain Eyebrow Threading: V Steam
All You Need to Know About Vaginal Steaming
You probably just heard of V-steaming and you are looking to know how this 'new concept' works, or on the other hand, you are wondering if it's something you should actually try. Well, the fact is that Vaginal Steaming, also known as Yoni steaming is far from being a new concept. It has actually been around for a long time; however, its recent popularity is all thanks to celebrities that have praised its claimed benefits. V steam also known as vagina or yoni steaming  is an ancient but natural treatment used for treating problems of the vagina. It is used to clean the uterus and vagina, ease bloating, ease period cramps and also regulate menstruation. During childbirth, menstruation and sexual intercourse, the vagina goes through a lot of pressure and tension. Coupled with some hormonal imbalances and a lot of other things going on in the pelvic floor, the vagina is far from being comfortable at times.
It is said that Vaginal steaming offers women several benefits ranging from a total cleansing of the vagina, uterus, and the entire reproductive tract to relieving menstrual pain, faster healing after childbirth,  sparking fertility, relieving menopause symptoms, quelling headaches, relieving stress, depression, hemorrhoid, fatigue, generalized pain, digestive issues, hormone imbalance, and infections, etc.   
The practice involves exposing the vagina to hot steam to clean it and enhance its health. One has to sit over a steaming pot of water that often contains herbs like basil, chamomile, calendula, oregano, mugwort, wormwood, and rosemary. Many spas provide a special seat holed in the middle to allow steam to come through. This treatment lasts for about 15 to 45 minutes to allow the herbs to penetrate the vaginal tissues and offer the claimed benefits
V steaming is done by directing some herb-steeped steam into your vagina. You can do it at home or in spas. Some of the herbs that are often used for this are mugwort, chamomile, basil, wormwood and calendula. You can use only one of these herbs or a combination of two or more depending on its availability. 
How To Do Vagina steaming
Put your herbs into a basin or any container you can sit comfortably on.
Pour your hot water into the basin containing the herbs.
Allow it to steep for some time.
After that, you can now squat or sit on the container. V steaming takes about 20 to 60 minutes.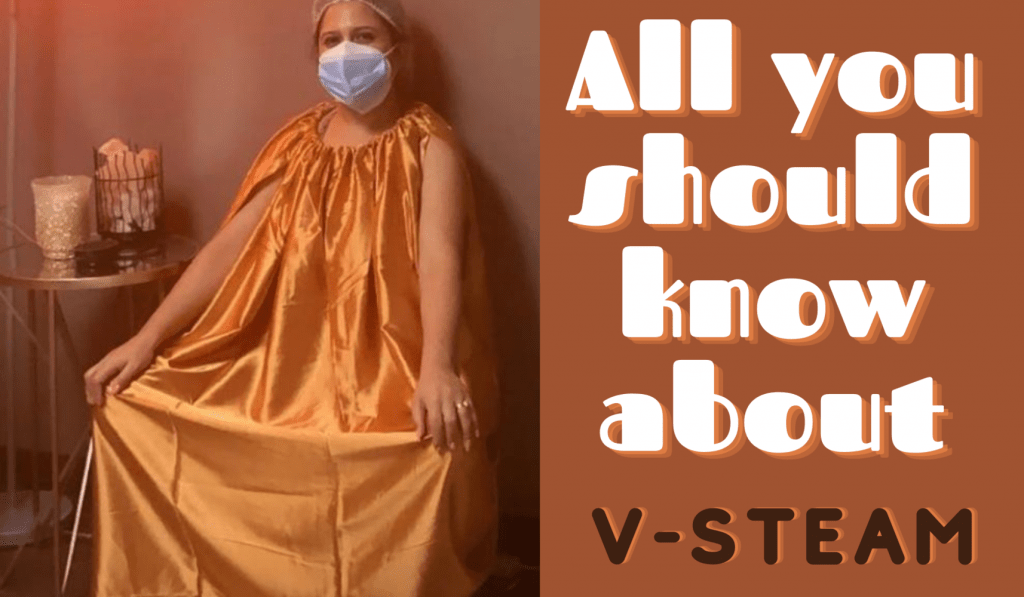 What are the benefits of Vagina Steaming ? 
Vagina steaming has been used for variety of purposes most especially for medical purposes. It is a natural way of cleaning the uterus and vagina. It is used to eliminate symptoms linked with periods such as irregular menstruation, heavy flow, bloating, cramps and exhaustion. It is also used for the treatment of depression, haemorrhoids, stress and some other generalised pain. It's effective for treating hormonal imbalances, infertility and increases healing after child delivery. 
Does Vagina Steaming Work? 
Since Vagina Steaming has just been introduced into Western countries, there is no scientific papers published as of now regarding it's effectiveness. Many practitioners have claimed the benefits of Vagina steaming which is why it's getting popular in lots of spas. It is believed to be beneficial because steaming with herbs keeps the vagina moist and increases blood circulation in the vagina area. 
How Safe is Yoni Steaming ?
There is no known proved evidence that vaginal steaming is safe or not. But just like any other services such as waxing, vagina steam has it's benefits if done properly. The vagina is very sensitive and delicate and as such, it could be traumatized easily with hot steam, so the steam has to be warm. As we all know, the vagina which is  a self-cleaning organ has the ability to take care of itself. It has the ability to adjust to any changes within its environment. It can adjust to changes with pregnancy, aging, hormonal changes and menstrual cycle. 
In short, the vagina is perfectly okay just the way it is. And it is capable of handling itself. Practicing vagina steaming does not do the work of the vagina, it only compliments it. 
So if you want to try this modern practice which has it's ancient roots in several civilizations, and has been talk so much lately, get an appointment with Newrain Eyebrow Threading, and see for yourself. We are giving 30 % discount as an introductory offer to all of our customers for a limited time.
Make V Steam Appointment in Grand Prairie Location
Make V Steam Appointment in Arlington Location
The Best V Steam In Arlington, Texas
Newrain Eyebrow Threading is located at 3115 S Cooper Street # 107, Arlington, Texas, 76015, US. From Dallas/Fort Worth International Airport (DFW) get on TX-97 Spur in Euless from International Service Rd/S Service Rd and then take TX-360 S and I-20 W to Interstate 20 W in Arlington. Take exit 449 from I-20 W and then merge onto Interstate 20 W. Slight right toward S Cooper St and then turn right onto S Cooper St. Turn right and then Newrain Eyebrow Threading will be on the left.
We're open Monday – Saturday 19:00AM – 07:00PM. Sunday 11:00AM – 07:00 PM
For additional questions you can call us at 817-376-9780 or you can find us on Yelp.